TDSatAndSound.com – 2007
The Challenge
TD Sat & Sound is as the name suggests a company offering sound systems and satellite TV. Due to heavy competition on the Costa del Sol they wanted to expand their company profile by adding an informative website including photos of previous work along with a short description of what they offer.
Having already made business cards for them, they wanted the website to keep a similar layout regarding colours and font.
The Solution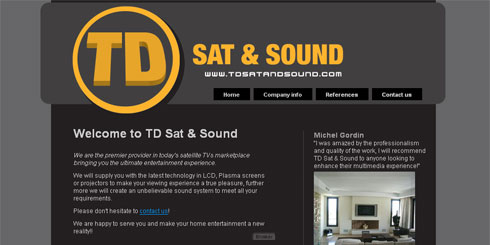 We created a basic website using PHP and HTML templates in order to make future changes and updates as easy as possible for the client. A tiny flash presentation was created to showcase the latest projects along with the contact information.
After only one year on-line the company has now employed yet another technician in order to meet client demands. We are happy to see that their new market approach has been successful and wish them all the best in the future.