ClinicaDentalNoruega.com – 2006
The Challenge
Clinica Dental Noruega is a Norwegian dental practise in Fuengirol, Spain. They wanted a website to reach a broader audience and also inform about all their services offered. The website should support multiple languages and also be easily maintainable through a browser based administration panel.
The Solution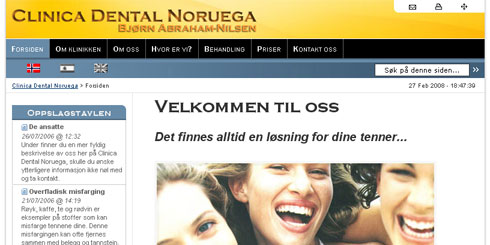 A custom content management system (CMS) was developed to allow for easy administration and multiple language support. The website is programmed in PHP with a MySQL database for data storage. The overall design is based on clients request along with illustrations and text. The CMS also supports themes which allows for easy updates regarding layout and template revisions.
Separating code and layout also makes security updates and adding features simple and uncomplicated.