The old front-page
It's been a few years since we last updated our "landing page", evaria.com. I've been thinking about this a lot lately and finally decided to do something about it today. Not that the old front-page was that bad;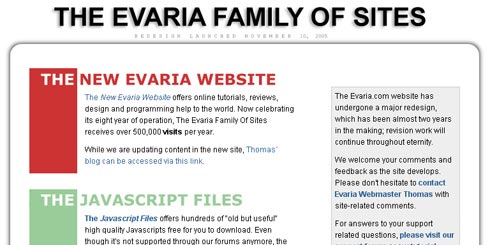 The redesign
However, stating redesign launched 2005 doesn't sound to promising. Thus I've completely redesigned the front-page and included one of my favourite photographs along with automatized daily updates;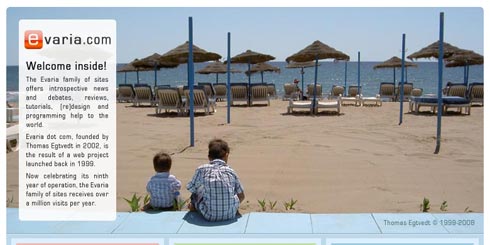 More specifically the content will update itself whenever something gets published at evaria.com. This is accomplished using a PHP script that automatically grabs the latest updates from my RSS feeds. This way new visitors will always find their way to the latest news and the page suddenly appears much more useful than the old static one (can't believe I haven't done this ages ago).
The photo mentioned above features my two sons sitting on the beach 17th May 2007 in Fuengirola, Spain. We had been celebrating the Norwegian national day and were taking a well deserved break. I feel the photo reflects harmony and tranquillity, which is one of the reasons I like it so much, besides the obvious.
I would really appreciate comments/feedback regarding the new front-page. Anything from a web designers point(s) of view to personal opinions.