AnimalChic.es – 2007
The Challenge
Chic, a mobile pet grooming beauty saloon operating on the Costa del Sol in Southern Spain, wanted to enhance their market share by showing off their services on-line.
They wanted a basic 6 page set-up using their company colours, black and pink, and also a few Flash photo galleries.
Due to the clients current agreement with their web host I was limited to HTML/CSS only as the server do not support PHP and SQL.
The Solution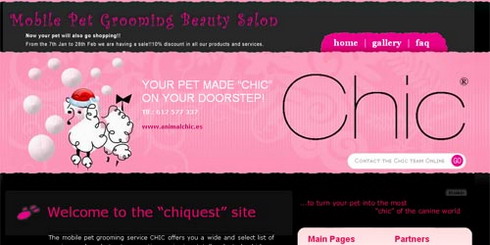 After a few designing rounds the client approved the current design, which is exactly what the client was looking for. The pages are static HTML but the structure is ready to be implemented in a more advanced solution (e.g. WordPress) in the future whenever the web host upgrades their services.
We also agreed that I would take care of future updates as the client is not familiar with this medium.
Following their enhanced marketing strategy they've been featured several times by local TV stations and are doing well. I wish them the very best with their rather unique service (at least on the Costa del Sol).