OasisClimateControl.com – version 2 – 2008
The Challenge
Having moved office and expanded the business the client felt the need to invest in marketing. Thus the old website needed some updating and the client also wanted a more modern look.
Additionally Oasis is fully authorised, by the Ministry of Industry, to carry out Air Conditioning, Heating (including solar), Electrical and Plumbing installations throughout the province of Málaga, as well as maintain Air Conditioning, Heating (including solar) and Electric installations, which further pushed for an accessible and professional looking website.
The Solution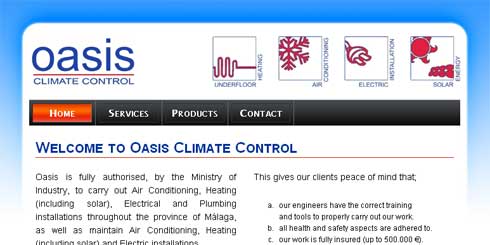 Initially we created a 4 page XHTML/CSS2 approach with a clean, "cool" business look. Very nice photos and graphics along with brief, informative and concise text completed the appearance the client was looking for.
The client is currently writing more material for the website so stay tuned for updates.
Marketing will be done as a combination of local newspaper adverts and targeted SEO campaigns using the most known on-line business directories in Southern Spain and the main search engines.
Oasis Climate Control is still one of the biggest (and still growing) companies in Southern Spain in their area of expertise.