Marbletech.es – 2008
The Challenge
Marbletech is a company based on the Costa del Sol in Southern Spain since 2001 which specializes in all types of floor restoration services.
In a tight market they saw the need to expand the horizon by also show their work and services on-line. Having a website also enhances the corporate image and provides creditability, especially on the Costa del Sol.
The Solution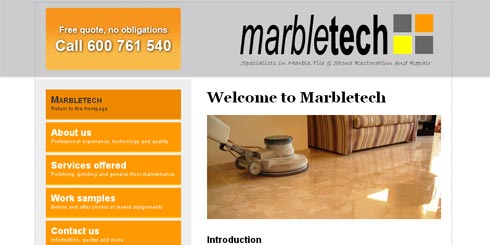 A 5 page presentation was designed with a strong focus on clean and simple layout, short but concise text and photographs showing the standard before and after shots. It's straight to the point, and based on user feedback exactly what Marbletech's clients want.
Future updates are made easy by using a blend of PHP, XHTML and page templates.