OasisClimateControl.com – 2006
The Challenge
Having been completely ignored by their initial web design company the client contacted me in order to complete their website and also get a proper email and web hosting solution. They also needed advice on how to market their website in their targeted area of operation.
Selling air-conditioning, energy-saving heating solutions and solar panels the demand was obviously high, they just needed to know which doors to knock on (figuratively speaking).
The Solution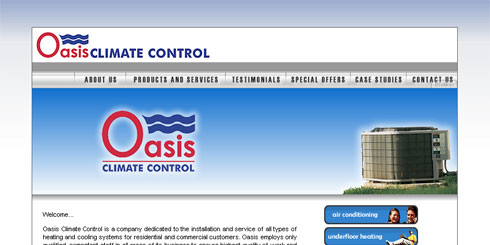 We created a 6 page Flash/HTML approach with a clean, "cool" business look. Very nice photos along with short and concise text completed the appearance the client was looking for.
Marketing was done as a combination of local newspaper adverts and targeted SEO campaigns using the most known on-line business directories in Southern Spain and the main search engines.
Oasis Climate Control is now one of the biggest companies in Southern Spain in their area of expertise.