FashionHouse.no – 2007
The Challenge
Oslo Fashion House is the home of the leading fashion agents in Norway. They run 2 exhibitions a year and functions as the fashion centre also being close to the Norwegian capital, Oslo.
They wanted to redesign their website and also enhance functionality as the old site was simply a collection of static HTML pages. Furthermore, they wanted to end their current maintenance agreement as they felt they did not get their moneys worth, and establish a new through me.
The Solution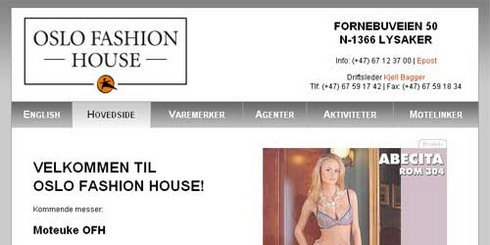 Even with only 6 pages in total the website were in need of a PHP / MySQL solution in order to display the lists of agents and brands in a more convenient way. The visitor may now sort by agent, floor, brand etc., to easily find what he/she is looking for. Floor maps will be included in selected listings and links and email addresses are shown only if chosen by the agent.
Most of the site can be edited through a browser based administration panel, while some elements like the Flash presentation needs my attention.
Included in the redesign job was also a change of server to a new web host (domain transfer), recreating email accounts and free support for 3 months. A service I intend to keep offering as I this solves most questions and issues before they become problems.